Indoor Air Quality
Safety Starts in the air around us. Reduce pathogens, control odors and clean your air with a cost-effective portfolio of products and services. Let us help you assess, improve and tell the story of the indoor air quality improvements of your buildings.
The Invisible Crisis
of Air Quality
Long-term exposure to even minor air quality contaminants can result in poor health outcomes, a lower quality of life, and unnecessary medical expenses. Particularly in Senior Living, where residents are especially vulnerable due to their age and higher rate of chronic health concerns, we must do everything we can to make these environments safer.
Research has shown that 81% of buildings have inadequate ventilation and air circulation – this creates a dangerous environment where irritants, odors and contaminants can cause lasting damage to your residents and patients.
81%
of buildings have inadequate ventilation and air circulation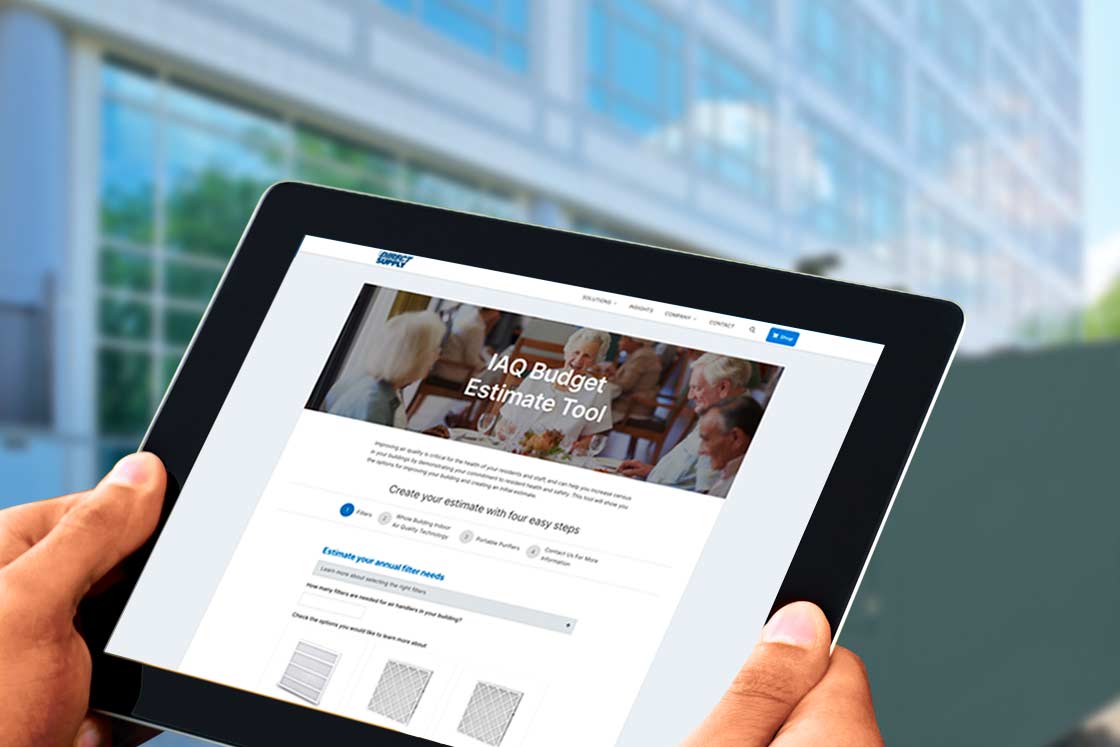 Let's Help You Get Started
Not sure which solution is right for you or how to budget for these important upgrades? We've created an easy and quick online tool to help you get started. Start your free estimate today.
Create Your IAQ Estimate Now
Four Proactive Ways to Improve
Your Indoor Air Quality
New regulatory requirements are emerging and we are here to help. From the trusted support your maintenance directors need from TELS to required IAQ products, Direct Supply is here to support you.
Cutting-edge solutions like Needlepoint Bipolar Ionization (NPBI™) can reduce particles, odors, and certain viruses and bacteria in your community. This technology delivers the clean air benefits of ionization in your HVAC system and is UL 2998 certified to be ozone-free.
Explore the benefits of NPBI
Replacing and upgrading the air filters in your HVAC system can greatly improve air quality and increase cost savings, but finding the right products for your system can be difficult. If you're unsure which filters are best for your system, use our contact form below and we'll work with you to identify the best possible filters for your HVAC system.
Find the right filters for your community
Portable filtration devices are a great solution for rooms of your building that receive no or low ventilation. Most of the portable air purifiers we offer feature HEPA filtration and are backed by research studies on their efficacy. We even carry purifiers that include ionization and UV-C light technologies.
Discover air purifier options
OSHA and CDC recommendations urge all Senior Living buildings to properly maintain their HVAC systems. Get peak performance from your systems – and stay compliant – with our network of professional HVAC technicians.
Learn more about TELS Planned Maintenance
Contact Our Air Quality Experts
Learn more about how the solutions on this page can improve the safety of your staff, residents and patients.